'Domino Dancing' was the first single released from 'Introspective' It was issued prior to the album. The b-side was 'Don Juan'.
Background
Edit
Most of this song was written a year before they came up with the Domino idea. "That came from when we staying at a hotel in the middle of nowhere in St. Lucia years ago," says Neil. "In the evening there was nothing to do except play dominoes; this friend of ours always used to beat us, and he used to do this celebratory dance." They had wanted to do a Latin song for some time, and created a demo of this without the verse vocals, since they hadn't been finalized yet. They was when they sought out Martinée to see if he would work it. He agreed, and they flew to Miami to record it.
Says Neil, "I was thinking of the domino theory: push one and they all go down...In the song the idea is that someone is so attractive that everyone fancies them, and how difficult it is to go out with someone who's fantastically attractive because you feel jealous. The people falling down are the people she dances with...At the end of the song the singer has decided it's not working - he's going to tell her to stop messing around or he'll leave."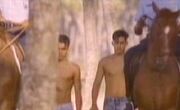 The video tells the story of the song: a fiercely attractive girl is driving her boyfriend crazy by flirting with other boys. The boys watch the story unfold emotionlessly, and at the end of the video, two of the boys get into a slow motion fight on the beach. A longer version of the video set to the Disco Mix is featured on the 'Pop Art' DVD.
Chart Positions
Edit
Community content is available under
CC-BY-SA
unless otherwise noted.